An education and immigration agency that helps non-EU citizens come to Austria to live or study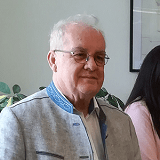 Alex Traun
Co-founder, Director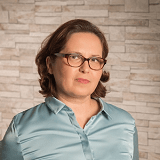 Irina Lewicka
Co-founder, COO
VIA Service was founded in 2012 by Dr. Irina Lewicka, a research scientist who herself immigrated to Austria in 2006, and Alex Traun, a former CEO of a multinational company.
Irina's first hand experience with immigration and integration and Alex's experience working and living abroad made them a perfect team to understand their international clients and to help them navigate the challenges of coming to Austria.
Within 7 years after founding VIA Service, Irina and Alex have developed several unique education programmes that help non-EU citizens get European education.
Their experience with relocation of non-EU citizens goes back 15 years, when in 2004, the company Alex was running at the time started offering a limited range of immigration services that in 2010 expanded into the range of relocation services VIA Service offers today.
To help you prepare, deal with the authorities, and relocate to Austria with as little hassle as possible, we have a wide network of partners in Austria, Kazakhstan, Russia, Azerbaijan and Hong Kong and are constantly looking for new ways to make it possible for you to study or live in Austria.
We stay with you all the way and help you fulfil the official requirements, take care of the paperwork and help you settle in Austria making the relocation process as hussle-free as possible.
VIA Service has an outstanding first immigration application success rate of 90%, is reasonably priced and provides their clients with a reliable one-stop service for which they would need to hire 4-5 different companies otherwise.
More importantly, they don't forget about their clients the moment they cross the border but are committed to help them settle in Austria and take an interest in their future path.
Most of the team members have experience living overseas and understand the needs of foreigners in Austria. They provide professional advice with a personal touch helping you adapt in your new home country and making you feel not alone.
Epoch Times, October 2014

We work closely with Austrian Immigration Services, departments of Ministry of Education, and a network of trusted partners in Austria, Russia, Kazakhstan, Azerbaijan and Hong Kong
VIA Services is the only company in Austria who works with public schools. We also work with well-known Austrian colleges and academies such as HTL Pinkafeld, HAS HAS Oberwart, FH Burgenland and others.



















Dr. Andre Schnitkowski
Director of WIUIM
We value VIA Service as a trusted partner who cares not only about the interests of Austrian schools and colleges but about the interests of the students.
We are happy to share the same thorough approach: Not only do we want to attract students to study in Austria but we'd like to accompany them till the very moment they get a permanent job.
I've personally known Irina and Alex for 10 years and can vouch for their experience and integrity.
Our partners in Kazakhstan
One of our most important partners in Kazakhstan is a university association WIUIM.
Together with WIUIM, we take part in exhibitions, meetings and other marketing events to encourage young people from Kazakhstan to come to Austria to study.
WIUIM help us prepare the applicants to relocate to Austria and improve their German, knowledge of general subjects or in-depth knowledge of specialized subjects.
Once the students that went through this process complete their education in Austria, they have an option to start working in Austria or return to Kazakhstan, where WIUIM guarantees them a job.

Many of our clients are Russian speakers, and we are happy to support them in their native language.
To help you or your children obtain the language certificate necessary to join our programmes and to feel at home in Austria faster, we work together with a team of experienced coaches.
We also work with Austrian Trade Commission in Moscow who help us hold presentations, take part in exhibitions and organize meetings to speak to the Russian students about education in Austria.

Dr. Anastasiya Kutkina
Language Coach
I've been working with VIA Service for 7 years. I'm excited to be a part of the team that helps people move to study or live in Austria – a dream come true for many of them.
Our Supporters in Hong Kong
Our programmes and initiative have found strong support in the Austrian Chamber of Commerce in Hong Kong. They gladly recommend us and regularly invite us to Hong Kong to attend presentations and exhibitions to speak in front of our potential clients.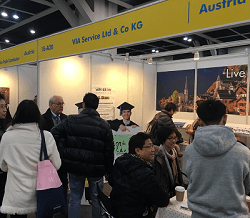 Hong Kong Education & Careers Expo 2018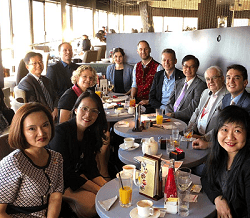 Hong Kong Exhibition for education and resident permits 2018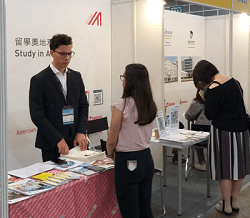 Hong Kong Education & Careers Expo 2019
Come to Austria to live or study
Are you a non-EU citizen who wants to come to Austria to study or move here permanently? Check out our services to learn more about your options.
Work with us
Want to explore the possibilities of working together? Contact us, and we'd be happy to discuss potential collaboration.