School Education in Austria
Prepare your children for higher education in Europe and make it easier for them to pass the university acceptance tests
A stepping stone to your child's bright future in Europe
Want your child to continue their education at a European university? A high school diploma from your home country may not be enough.
We help high school students from non-EU countries finish their high school education in Austria and get a European matriculate certificate that makes it possible for them to apply for any university in Europe without additional paperwork.
The knowledge acquired during their studies in Austria will also make it easier for your child to successfully compete with the native speakers and pass the acceptance tests to get a place in the university of their choice.
This 4-year programme is ideal for school children between 14 and 17 years old who have:
Unlike public schools in other countries, public schools in Austria have modern facilities and provide excellent education.
We will help your child fulfill the requirements to join an Austrian school using our proven preparation programmes, take care of the paperwork and help you make this transition period as hassle-free as possible.
After the final examination, your child will receive a European matriculation certificate that will make it easier for them to join any university in Europe.
There are no tuition fees, as the public school education in Austria is free. Yet, to cover accommodation, food, insurance and personal expenses will require around €7000 a year.
Hurry up! The places are limited.
Only 10 study places left for the academic year 2020/21.
Additionally, it could take your child up to 6 months to get ready to join an Austrian school. Contact us today to make sure we start the preparation programme and the paperwork early to reserve your spot.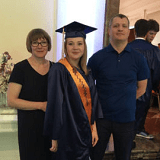 "Thanks to VIA Services, I'm now studying in Austria"
When Olga was 17, we helped her move to Austria to continue her education at an Austrian school. After she graduated from high school, we helped her get a student residence permit. Currently, she is studying in a university in Vienna.
Thanks to VIA Service I've got a great opportunity to graduate high school in Salzburg. Spending 2 years in Austria improved my German so much that I had no problem keeping up with the native speakers and passing the acceptance tests at the university.

"VIA Service helped me get a step closer to my dream career"
We helped Khadija come to Austria to study after 10th grade of high school.
My dream is to become a successful international lawyer, and studying in Europe gives me an excellent opportunity to achieve it.




Only 10 study places left for the academic year 2020/21.
Want a better future for your children? We help you pick a school and take care of the paperwork so that your child can continue their high school education in Austria already next year.